ELTRONFAL 2YSLCYJ 0,6/1kV - Cables for power supply connections to frequency converters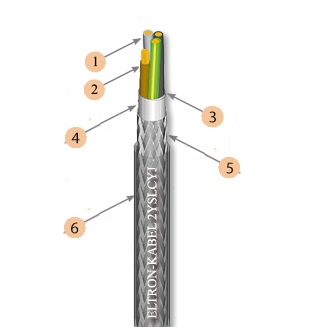 Construction:
Bare copper or tinned copper, fine wire conductor, cl. 5 PN-EN 60228
Polyethylene (PE) core insulation – core colours: black, grey, brown, green-yellow
Cores stranded in concentric layers
Screening aluminium foil,
Screening with tinned copper braiding, coverage approx. > 85 %
Transparent special PVC or grey colour RAL 7001 outher sheath.
Charakterystyka:
The construction of the cable assure low mutual capatiance and low power losses, low coupling resistance for high electromagnetics compatibility.Fulfils norms of the electromagnetic compatibility EVM (PN-EN 55011), because of this construction this cable can be used in environments about the high interference level electromagnetic. Temperature range: -30°C ÷ +70°C Napięcie pracy: 0,6/1кВ Próba napięciowa: 3000V
Zastosowanie:
This ELTRONFAL 2YSLCY-J motor Power supply cable for frequency converters assures electromagnetic compatibility in plants and buildings, facilities with units and operating equipments where fields of electromagnetic interference might cause adverse effects on the surroundings. As a supply and connecting cable for medium mechanical stresses in fixed installations and forced movements in dry, moist and wet environments, however, not for outdoor applications. Used in automotive, environmental technology, packaging industry.